Guangdong Liangyueliang photoelectric disinfection and sterilization industry experience of 21 years, is a focus on environmental protection disinfection and sterilization health home appliances research and development, production, sales and service of high-tech enterprises.  L is committed to using science and technology to create healthy, beautiful, high-quality air and life for consumers.  It has won many honors such as "High-tech Enterprise of Guangdong Province" and "Top ten Professional Brands of 2017 making great Contribution to China's Environmental Protection Industry (clean air)".
It is up to the disinfection principle of the specific air disinfection machine to determine whether it can inactivate the novel coronavirus.(Covid -19) There are many kinds of air disinfection machines on the market. To find really useful ones, we must find really qualified factories. Here I will introduce Liangyueliang  air purifier.
Now I would like to recommend this air cleaner  of our company:
First of all, what is an air sterilizer?
Air purifier disinfection is through filtering, purification, sterilization and other principles of air disinfection machine. According to the COVID-19 Diagnosis and Treatment Protocol (Trial Version 6) released by the National Health Commission, the virus is sensitive to ULTRAVIOLET light, chlorine-containing disinfectants, chloroform, etc., so the sterilizer designed using these measures can inactivate the Novel Coronavirus
In addition to killing bacteria, viruses, mold, spores and other so-called sterilization disinfection, some models can also remove formaldehyde in indoor air, phenol and other organic pollution gas, but also can kill or filter pollen and other allergens. At the same time, effective removal of smoke and smoke smell, formaldehyde, odor, bad smell of toilet, human body odor. The disinfection effect is reliable, and can be disinfected in the case of human activities, to achieve the coexistence of man and machine.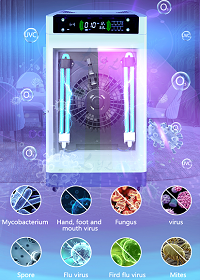 ---
Post time: Mar-23-2022