Guangdong LIANGYUELIANG photoelectric disinfection and sterilization industry experience of 21 years, is a focus on environmental protection disinfection and sterilization health home appliances research and development, production, sales and service of high-tech enterprises. LIANGYUELIANG is committed to using science and technology to create healthy, beautiful, high-quality air and life for consumers.  It has won many honors such as "High-tech Enterprise of Guangdong Province" and "Top ten Professional Brands of 2017 making great Contribution to China's Environmental Protection Industry (clean air)", Disinfection permit,ISO, CE, EPA, ROHS so on.
Among many disinfection methods, disinfectants, alcohol purifiers and so on are often used products, and air disinfection machine with ultraviolet disinfection lamp is less exposed to in life, then this method in the end whether it works? What should we pay attention to when using it?
The first thing we need to make sure is that our air purifiers are equipped with UV + ozone and disinfecting with UV is effective against coronavirus.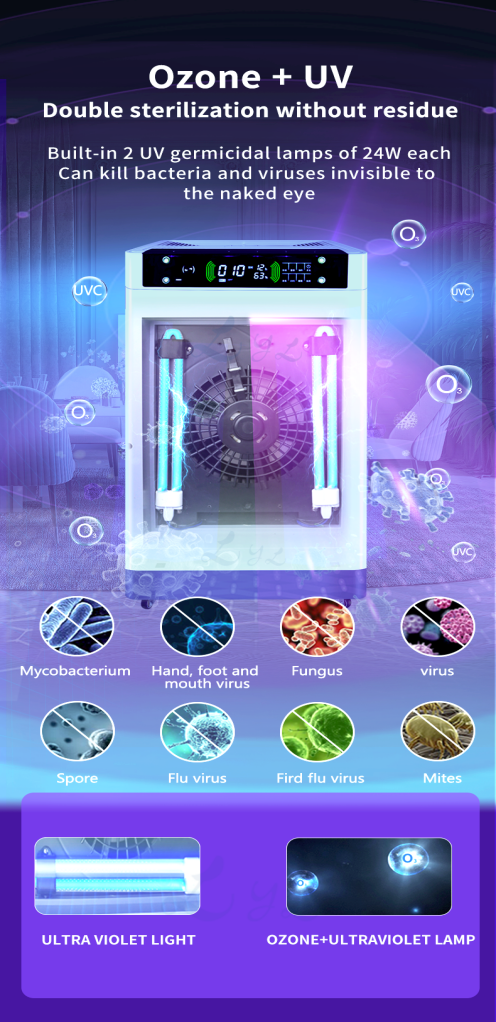 Experts from the National Institute for Viral Disease Control and Prevention of the Chinese Center for Disease Control and Prevention found that the coronavirus can be killed by irradiating the virus with ultraviolet light with an intensity greater than 90μW/cm2 for 30 minutes. Theoretically, scientific and rational use of ULTRAVIOLET light can effectively inactivate coronavirus. What is the principle of ultraviolet lamp disinfection? In simple terms, it uses high-energy ultraviolet light to disrupt the structure of DNA, depriving it of its ability to reproduce and self-replicate, thereby killing bacteria. And in the process of ultraviolet lamp sterilization, will produce ozone, ozone itself can gradually destroy the structure of the virus from the outside to the inside, so as to achieve the effect of sterilization. Therefore, the use of ultraviolet lamp disinfection, can be said to be double sterilization.
Virus are RNA viruses with an envelope. When the envelope is destroyed by  disinfectant, which is also easily degraded, which inactivates the virus. Because of  this envelope, coronaviruses are sensitive to organic solvents and disinfectants, so they can be inactivated using methods such as ultraviolet light.
As for air purifiers the effect of air cleaner is limited in the control of respiratory   infectious diseases, and it is of significance in terminal disinfection after the transfer of confirmed or suspected cases. It is recommended that professional health     personnel use peracetic acid or hydrogen peroxide disposal or mobile UV     sterilizer  under the condition of no one. In general, it can be carried out by strengthening ventilation and using qualified air disinfection machines such as LIANGYUELIANG
LIANGYUELIANG home air purifiers  is for air through advanced filter element, purification,    sterilization, in addition to peculiar smell and other principles. In addition to killing  bacteria, viruses, mold, spores and other so-called sterilization disinfection, but also to remove formaldehyde in indoor air, dust mites and other pollution gas, but also can kill or filter pollen and other allergens. At the same time, the smoke and smoke smell produced by smoking, the bad smell of the toilet, human body odor and other effective removal. The disinfection effect is reliable, and can be disinfected in the case of human activities, to achieve the coexistence of man and machine.
---
Post time: Jan-24-2022