wall mounted office air purifier
Product Detail
product picture
Product Tags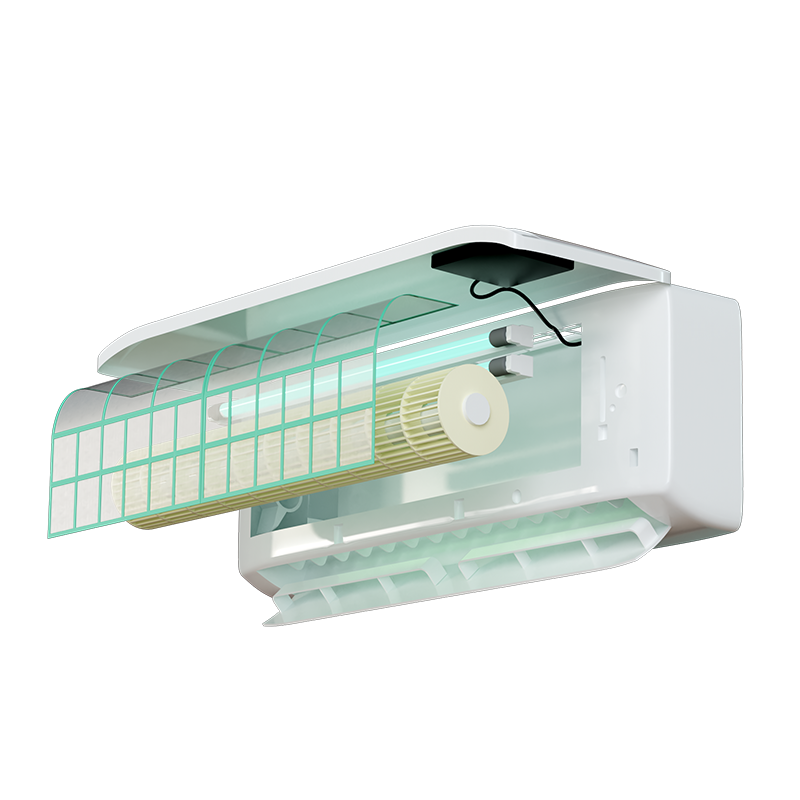 ● 3-Stage Filtration for Simply Clean Air. Includes a pre-filter, activated carbon filter, and an H13 HEPA filter to capture large and fine particles, home odors, odors from pet, and VOCs.
● Wall mounted with primary filter Captures 99.9% of particles 0.3 microns and smaller when on lowest fan speed, helping to remove airborne allergens and irritants like dust, pet dander, pollen, and smoke like that from wildfires, cooking, and smoking.
● Honeycomb-Structured Carbon Filter. Filter contains thousands of activated carbon pellets engineered to capture gases, volatile organic compounds (VOCs) and common household odors including odors from pets, cooking and smoke.
● Large Room Coverage and European Certified. Filters 60-80sq. Low Energy and Library Quiet. Energy Star rated and equipped with 3 fan speeds the lowest of which is as quiet as a library.
● Automated CirQulate System. VOC sensor monitors and provides colored-coded, indoor air quality feedback and adjusts to the appropriate fan speed for continuous clean air.
● Whisper Quiet Sound Level. Equipped with 3 fan speeds the lowest of which is whisper quiet. Perfect for bedrooms and contributes to a peaceful sleeping environment.
| | | | |
| --- | --- | --- | --- |
| Particle sensor | Particle sensor | Wind speed adjustment | Third gear |
| Rated frequency | Rated frequency | Timing | 1H-8H |
| Rated power | 50~60Hz | Way to control | Touch and select, infrared remote control |
| UV sterilization power | 75W | Panel keys | 9 buttons |
| Negative ion production | 25W | Rated noise level | 35-55db |
| Usage area | 7500w/s | Power protection function | Clamshell power-off function |
| Filter function | 40-60m² | Net weight | 7.15kg |
| Product certification | CE FCC ROSH EPA Sterilization Test Report | Gross weight | 10KG |
| Package Size | 125*94*248in/320*240*630mm | Product Size | 125*94*248in/320*240*630mm |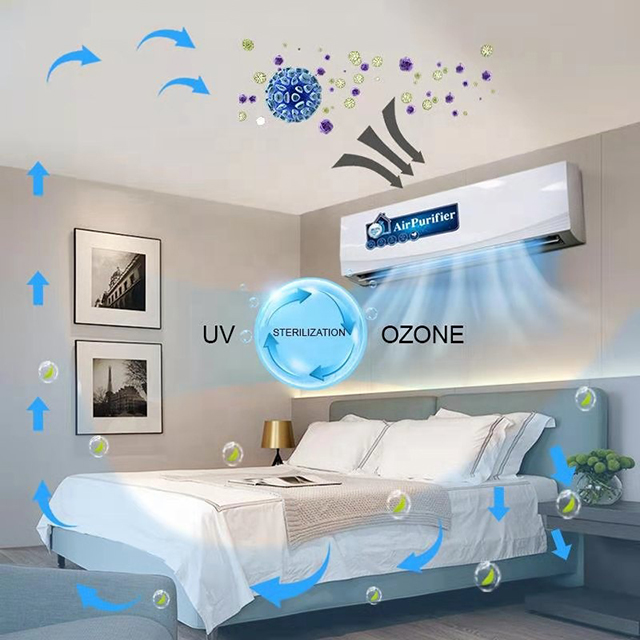 1.3-speed wind adjustment
2.ozone  Generator and uv /ozone bulb can be optional
3.Install in the wall very safe no one can touch
4.With screen display
5.With remote control operating
 6.anion air purifiers
7.uv and ozone can be separate working
8.OEM/ODM air purifier service.
Removal of odor by anion purification
   using bipolar plasma electrostatic field to decompose and break down the negative bacteria, the dust poleis broken downin combination with activated carbon electrostatic net,ultravioler lamp irradiation, photocatalysis after sterilization and filtration, a large number of treated clean air circulates rapidly ring flow,so as to achieve sterilization, smoke,dust,remove odor and other effects!
Ozone Sterilization is complete without residue
   ozone decomposes harmful substances in the air decomposes the source and kills all kinds of harmful bacteria .It is not covered up by ohysical adsorption or fragrance.Ozone can quickly spread throughout the house. Thers was no dead angle in sterilization.
1、Switch 2、Air volume 3、Ozone 4、Timing/add 5、Negative ions 6、Timing/minus 7、Disinfection 8、The wind swing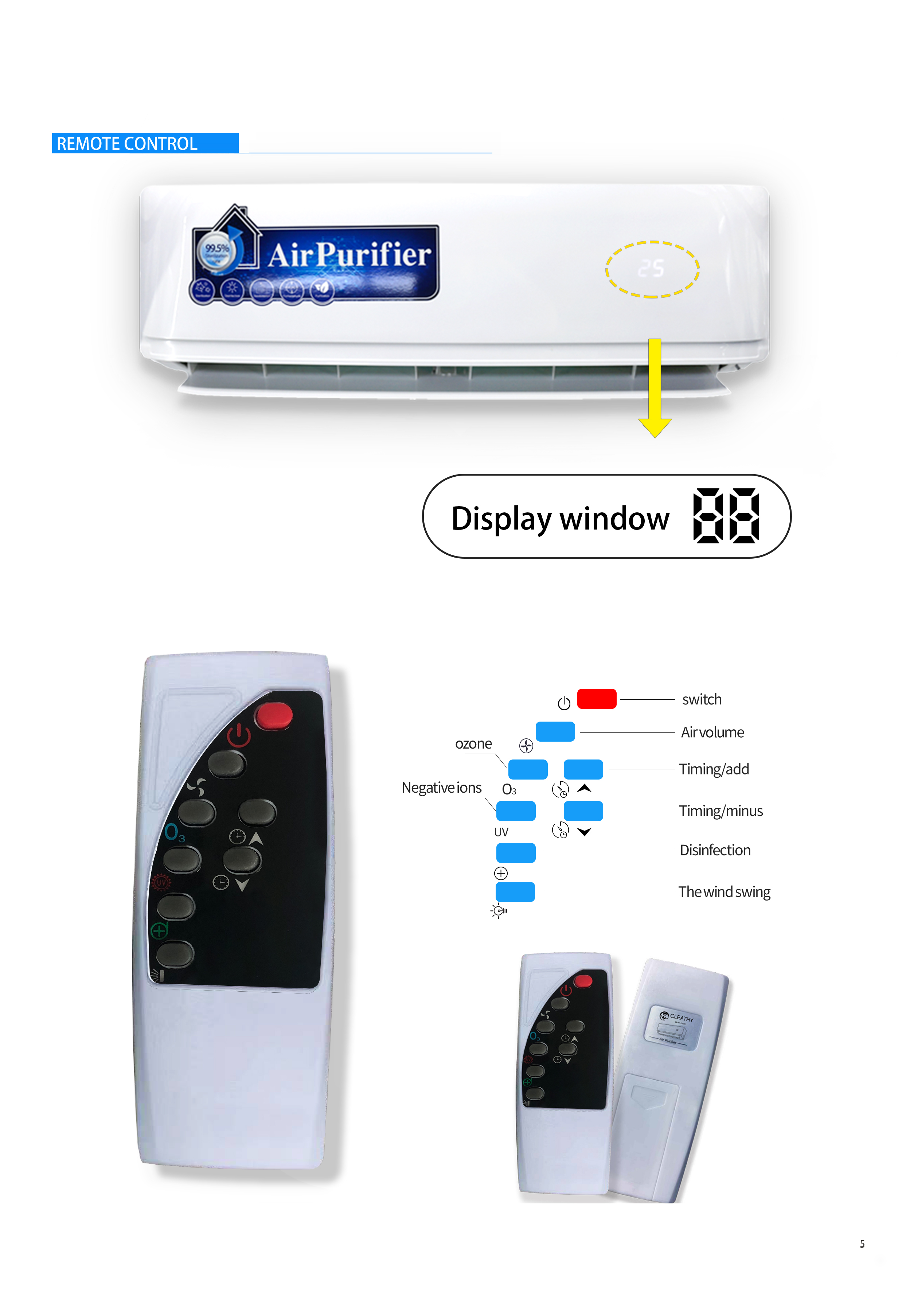 Product Structure Diagram
 Install the front filter.The back plate is made of aluminum alloy. Take out the metal part and install it on the wall before installation. Then buckle the product on the metal plate to complete the installation.
  The following figure shows the accessories of the product. The front filter screen needs to be cleaned regularly. The built-in UVlamp is used to kill bacteria and viruses. ↓↓↓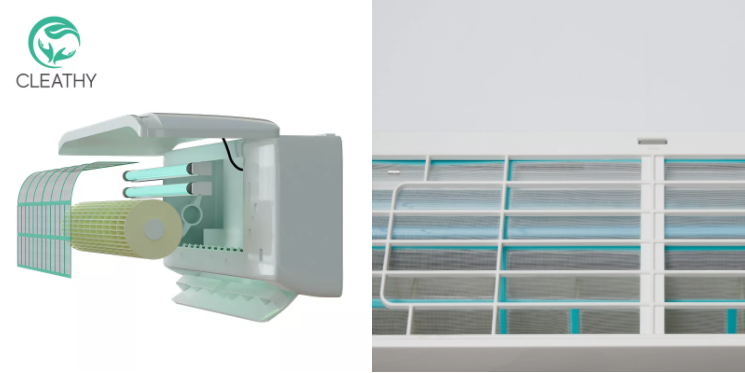 Packing Box accessories:
1、Ordinary medium package(No LOGO, no other information.Suitable for ordinary OEM customers.)
2、Our company's brand packaging(Applicable to retailers or agents)
3、Customized packaging for customers(Customized services for high-end brands)
The following is our drop-proof test of packaging.↓↓↓↓↓↓↓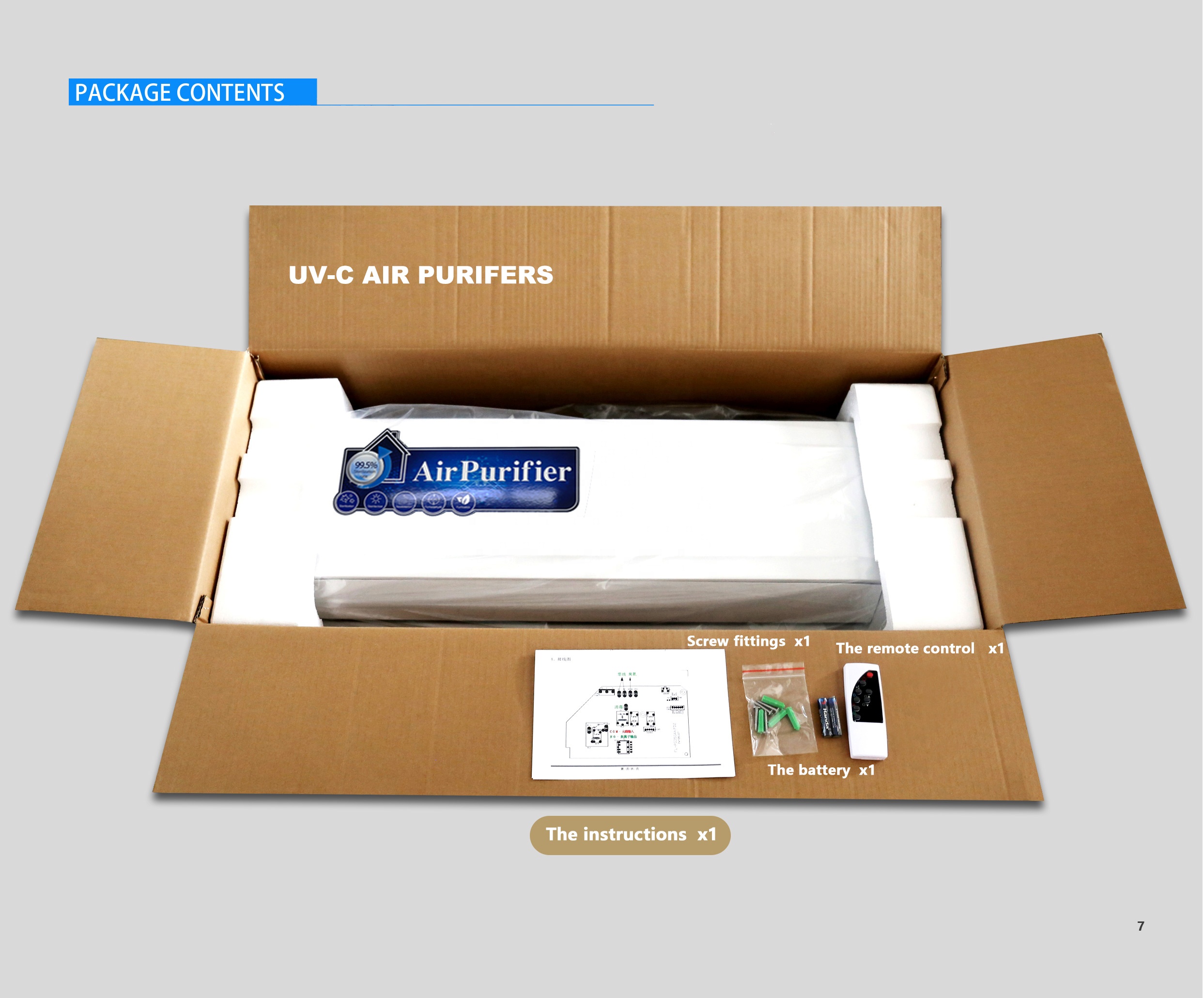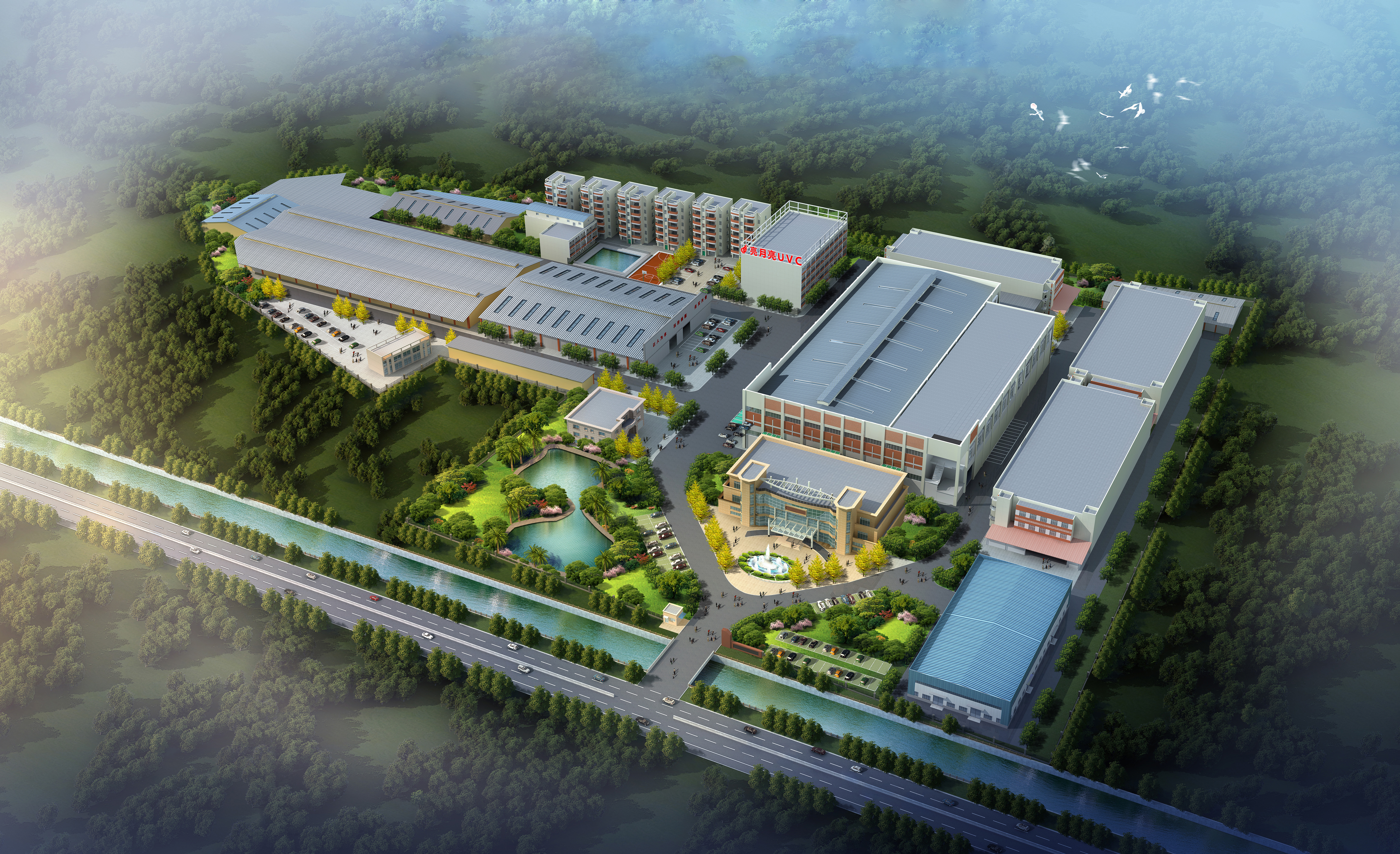 Guangdong Liangyueliang Photoelectric Technology Co., Ltd is a national high-tech enterprise specializing in R& D, production and sales of UV special light source. The company has passed the certification of ISO9001: 2015 international quality management system. It has a R& D team and management personnel with more than 15 years of professional experience, and has won a number of national invention patents and utility model patents. It is China's environmental protection industry It is a member of the association and a council member of Guangdong Environmental Protection Industry Association.
     Liangyueliang has been committed to the R&D and production of UV product application, household air purifier , medical air purifier ,commercial and public air purifier and household disinfection since 2002. It has a professional laboratory, test room, and a number of automatic and semi-automatic production equipment, realizing modernization, standardization and application Large scale production, strict control of quality assurance, to ensure product stability and reliability,the current series of products have passed CE, ROHS, EMC ,EPA ,TUV certification Etc ,and exported to more than 80 countries , have been highly praised by many colleges and universities and well-known enterprises.
     Since the establishment of the company, we liangyueliang seek truth from facts, the attitude of excellence, to meet customer and market demand. Welcome to contact us Liangyueliang to know more .

Shippings Refund
1, AII orders will be sent out within 5 days once your payment is completed(- Except for the Holidays).
2, We do notguarantee delivery time on all international shipments due to differences in customs clearing times in each countries,which may affect how quickly your products in inspected.
3, We will not refund shipping charges for refused shipments.
4, We will be responsible for all wrong sending and quality issue orders.
5, Customers must offer accurate consignee information,otherwisefcustom- ers need afford the loss. 6, Please note that buyers are responsible for all additional customs fees,brokerage fees,duties,and taxes for importation into your coun- try.These additional fees may be collected at time of delivery.
The sizes are illustrated with specific measurements in the detailed specifi- cations,please check the specifications before you place orders. If you find the size of products do not fit you,you can directly contact us.
1, Thank you for your purchase,we are appreciated for your trust. 2, Your satisfaction and positive feedback is very important to us.please leave positive feedback and 5 stars. 3, Before leaving neutral and negative feedback,please contact with us to solve the problem.

24-hour service hotline:   400-848-2588
Tel:86-0757-86405580      86-0757-86405589
Fax: 86-0757-86408626
E-mail:  service@lyluv.com
Add: The 3rd Storey of Block No 2 in ShaChongWei Area, XiaoTangXinJing Village, ShiShan Town, NanHai District, Foshan City,China
Unday ------------ Closed
Monday - Saturday------------ 9am - 12am
Public Holidays ---- 9:00am - 12:00am
---
Previous:
Office Air Purifier with WiFi
---
Write your message here and send it to us